Importance of Conversion Funnels in the E-Commerce
June 2020, Digital Marketing
Wouldn't it be fabulous if every single person that arrives at your e-commerce website would easily fill out their carts and spend tons of money? Reality doesn't act that way. People are normally out there, collecting new information and most of the time they don't perform the way you want them to. It would be the start of the bittersweet process of converting your leads into consumers.
A conversion funnel in e-commerce represents the route your consumers take from first becoming aware of your brand to securing a purchase. It also involves customer retention, up-selling, cross-selling, and subscription-based models.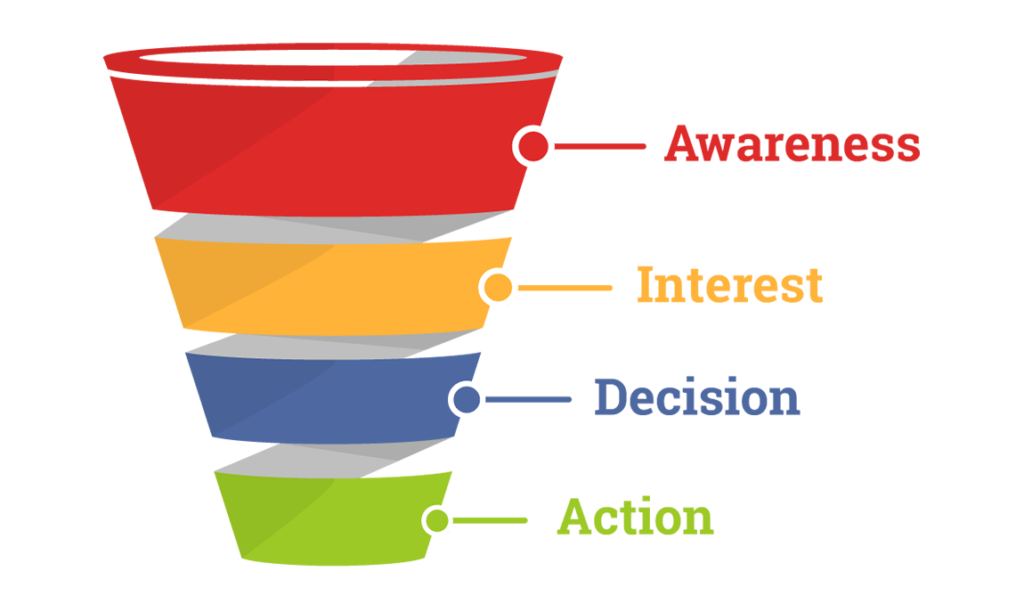 The 4 Stages of E-commerce Conversion Funnel:
Awareness
In this stage, consumers become familiar with your brand and what you offer. They recognize they need to solve a problem or reach a goal, so they look for solutions. Yours is just one they're likely to stumble upon. That's why this stage proves so critical. The awareness stage demands educational content from your brand. Show that you're generous in giving up free information like webinars, and guides.
Interest
Now that you've set the hook, you can't let your audience escape. Continue to provide them with entertainment and educational value so they remain interested in your products. Replicate that strategy by sharing brand-centered memes on social media, creating more useful content for your blog, engaging your audience through email marketing, and posting videos on YouTube.
Desire
When you have your audience's interest, create desire. Talk about your product's benefits — not its features — to make your prospective customers want the same great results. Apple does this beautifully. The company doesn't talk about boring specs (features); instead, it consistently tells its audience that its products are sleek, elegant, easy to use, and secure (benefits). Focus your marketing messages on how the consumer will ultimately benefit.
Action
It's time to close the sale. You want your prospective customers to add your product to their shopping carts, type in their payment information, and click "Buy Now." As I mentioned before, the average e-commerce site convinces only about 3 percent of its website visitors to take this step. You can do better. Examine your checkout process from end to end. Test different checkout pages to see which elements should go and which need to be added.
3 Steps that will help you build an e-commerce conversion funnel:
Identify the customer journey
Google Analytics can help you map the customer journey using reports like user flow. Figure out what people do when they arrive on each of your website pages.
Map the funnel stages to conversion triggers
Using the four stages outlined above – create a plan for ushering consumers through your sales funnel. List the types of content you want to serve up at each stage, for instance, and the pages on your site you want to test.
Define the point at which a visitor turns into a lead
For most e-commerce businesses, a visitor becomes a lead when he or she hands over contact information — usually an email address. If that's the point when a visitor becomes an e-commerce lead, you need a lead nurturing strategy.Decide how you'll help consumers transition from awareness to interest to desire to action. Your email subscribers should receive content designed for all four stages so you cater to your entire target audience.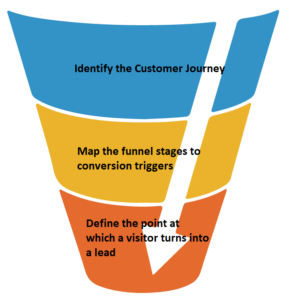 Top Key Performance Indicators (KPI) for Conversion Funnel Optimization:
Traffic
Nobody enters your conversion funnel unless they find your business. You can generate traffic from numerous sources — social media, search, email forwards, and more — but you want your traffic to grow steadily.
Conversion Rate
Tracking conversion rates across all offers will help you get to know your audience better. A/B test different offers to see which gets the most engagement, then apply what you've learned.
Bounce rate
Your bounce rate tells you how many of your website visitors leave your site after visiting just one page. You can reduce the bounce rate by introducing more incentives to visit other pages.
Sales
Overall sales is another important metric to track. It doesn't matter if your website brings in hundreds of thousands of visitors each month. If you don't convince them to buy, then you'll go under.
Cart abandonment
You'll also want to know how many people put items in their shopping carts, then navigate away from the page without checking out. A high cart abandonment rate suggests a problem with the checkout process.
The e-commerce conversion funnel can show complicity, but if you're furnished with the right data, you can enhance the user experience and create more sales. That's why I recommend collecting information and running tests (A/B Testing) continuously.
To recap, remember that there are four stages of the conversion funnel: Awareness, Interest, Desire, and Action.
Optimize your content and pages for each stage. When you build your e-commerce conversion funnel, follow three simple steps: Identify your customer journey, Create the funnel stages, and Define the point at which a visitor becomes a lead.
Use that framework to make decisions about your email marketing, social media marketing, content marketing, and more. Finally, track key performance indicators that matter for your conversion funnel. They include: Traffic, Conversion rate, Bounce rate, Sales, and Cart abandonment.
With all this in mind, you'll have a killer conversion funnel that outperforms your competition.
I WANT TO…
Choose this if you want a responsive website and stunning mobile app